The Role of Omnichannel Marketing in the Future of the Pharmaceutical Industry
Fikir Liderleri Magazine
28.02.2021
When we think of digital marketing, the concept of Omnichannel Marketing, or integrated channel marketing, comes to mind. Although the pharmaceutical industry has lagged behind in its digital journey, the pandemic has forced globally operating companies to make digital marketing moves and methods a top priority on their agendas. In 2021, pharmaceutical companies' spending on digital advertising related to health and treatments increased by 18% compared to the previous year, reaching 11 billion dollars. Have these companies achieved their desired goals with these investments? Despite the presence of many communication channels (email, digital, social media, etc.), many pharmaceutical companies have been unable to adapt their existing physician interaction strategies to digital approaches until recently. This has led to separate and disconnected progress of one-on-one interaction and mass interaction strategies.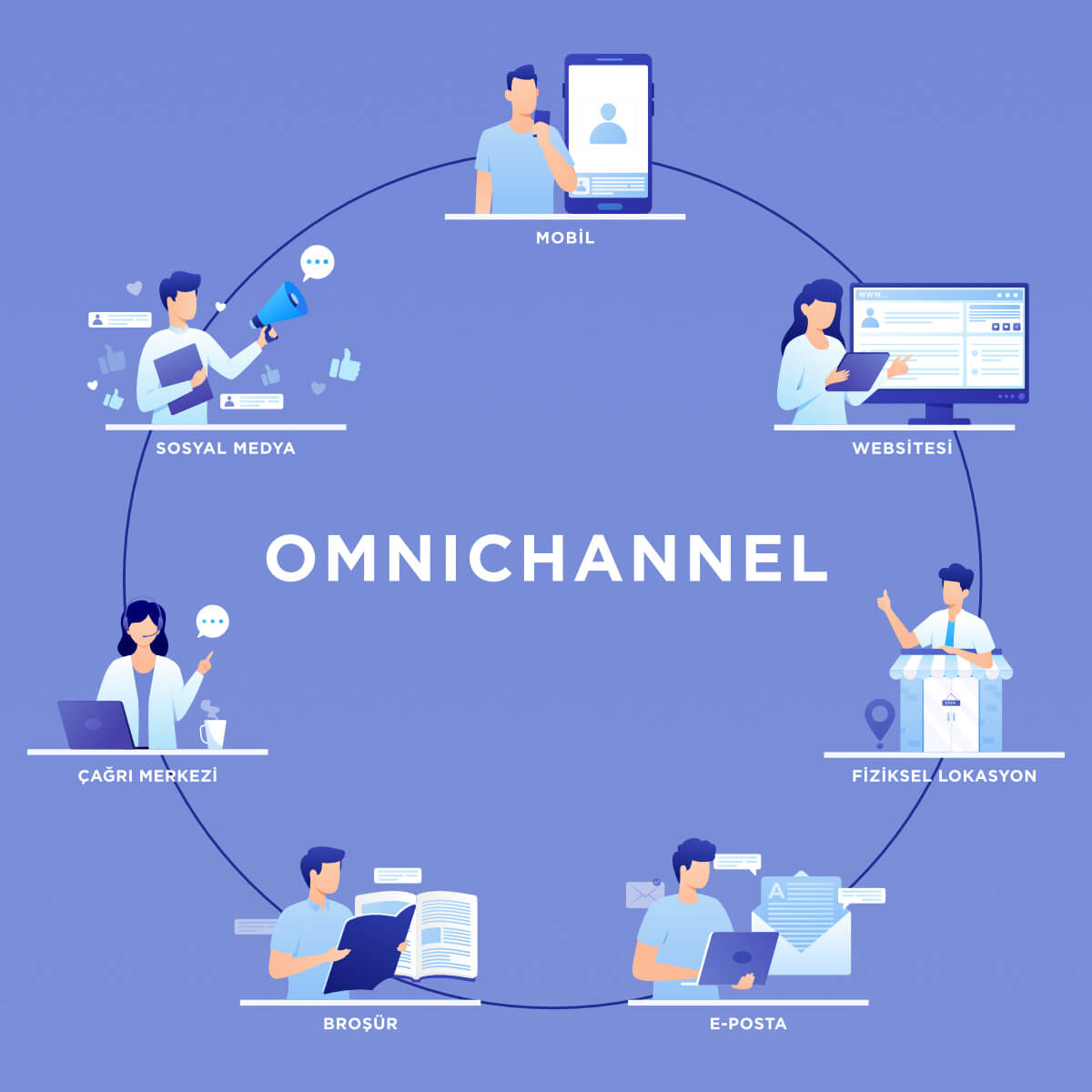 With advancing technology and increasing competition, the importance of perfecting and personalizing physician communication levels in the pharmaceutical industry is growing day by day. Therefore, it is expected that companies that integrate an omnichannel strategy, which centers on physician needs and the pharmaceutical experience, will take the lead in the near future. Omnichannel interaction is an end-to-end marketing solution that integrates all of a company's digital and traditional marketing and communication channels into one ecosystem, conveying the brand message by delivering a personalized and consistent user experience. This type of marketing approach enables companies to engage with their customers through the channels they prefer, at the right time and with the right message. Omnichannel interaction creates a personalized and harmonized interaction experience by blending data analysis, modular content creation platforms, marketing automation, and machine learning technologies into one pot.
"Much better communication can be achieved by putting the physician at the center, compared to other interaction methods."
The difference between Omnichannel and multichannel approach is that multichannel interaction envisions the delivery of medical content to physicians through multiple channels, but the delivered content is generic and the channels are not highly harmonized. This can result in excessive repetition of the given information and message. On the other hand, in Omnichannel interaction, a physician can receive a personalized email containing current and interesting information in the area of their expertise or interest. They can then access a website for more detailed information through a call-to-action in the email. As additional interaction, the physician can be invited to a remote detailed session to discuss innovations. During the meeting, the representative can invite the physician to a web seminar where the latest scientific data on the topic is presented. Thus, communication starts and evolves based on the individual's needs. Channels and content are organized according to the physician's needs. Instead of similar messages in each channel, a story is created through the messages built on top of each other, in other words, an experience is created. With the application of the Omnichannel interaction model in the pharmaceutical industry, much better communication can be achieved by putting the physician at the center, compared to other interaction methods.
Let me briefly talk about the detail of our omnichannel communication model that we use in the field of rare diseases at Trispera. Rare diseases area is where disease awareness can be of vital importance. Depending on the awareness of the doctors, patients can receive early diagnosis and early access to treatment. Ultimately, early treatment can lead to pleasing treatment outcomes for patients. While various channels such as websites, e-mailing, promotional materials, presentation set, and field team are used to increase disease awareness, the result obtained from generic communication may not be satisfactory. This is because having a deep awareness of the disease is a personal journey for each doctor. Therefore, personalizing the information that doctors learn, i.e. creating a doctor-based roadmap based on the doctor's level of knowledge, learning style, learning path, and questions in their mind, is necessary. To achieve this, all data collected must be consolidated in a single pool, user profiles must be drawn from data, a modular content pool that can serve a wide user profile must be created, and a communication plan must be created that integrates modular content with the user profile for each doctor. In this way, each doctor can reach disease awareness as soon as possible and ensure that their patients reach diagnosis and treatment as soon as possible.
Recently, a study of healthcare professional (HCP) interaction conducted by Sermo, a social media platform for doctors in the US and Europe, also supports the personalization of medical content. In the study, 80% of doctors attach high importance to personalized information compared to generic training materials from their companies, while 50% of doctors find generic mass communication annoying. According to the same report, 57% of HCPs are found to use real data in their clinical decision-making process by accessing two or more channels. As a result, for the medical content provided to be valuable for the physician, it must be personalized and the data used must be available in multiple scientifically accepted channels (platforms).
It is predicted that omnichannel interaction will increase, and an important reason for this is the crucial importance of preparing for pre-launch and launch activities in the pharmaceutical industry. According to a study by Across Health, the long-term fate of 80% of launches is determined within the first six months after release. Similarly, 65% of physicians were dissatisfied and indecisive with digital content during the launch. According to a study by Evaluate Pharma, 65% of launches that exceeded sales estimates in the first year continued to succeed in the second year. On the other hand, 78% of launches that fell behind estimates in the first year were unable to change their situation in the second year. Another study by Across Health showed that product launches based solely on face-to-face interactions by company representatives often take a year to reach a critical threshold for physicians. The omnichannel approach can potentially reduce the critical threshold time by 50% or 6 months. Given that 40% of drugs launched worldwide between 2009 and 2017 did not meet their two-year sales estimates, as noted in a study by McKinsey, we can see how crucial the preparation and launch process is, and how omnichannel can play a critical role.
"For the medical content provided to be valuable for the physician, it must be personalized and the data used must be available in multiple scientifically accepted channels."
Another reason for the expectation of widespread use of omnichannel interaction is the continued growth of medical knowledge. Medical knowledge is increasing faster than our ability to effectively absorb and apply it. The doubling time for medical knowledge has decreased from 50 years looking back to 1960, to 7 years in 1980 and 3.5 years in 2010. As a result, the need for easily consumable content in doctors' limited time is increasing. Support with infographics, websites, podcasts and videos, in addition to articles and PowerPoint presentations, will make it possible to easily digest the information. Both doctors and in-house harmony require the creation of a compelling, differentiated, accurate, modular, and consistent product story using omnichannel techniques.
As the use of technology and digitalization becomes widespread, the general outlook on technology in the healthcare sector will change. The continuation of the hybrid communication model that started with the pandemic is clearly evident from current experiences. During the pandemic, inter-doctor communication also entered the digitalization process, and digital opinion leaders (DOLs) who produce content and give training on social media were born. A leading clinician, patient advocate, or even a doctor who actively shares health-related content on YouTube for a rare disease can be considered a DOL. Like key opinion leaders (KOLs) in the health field, DOLs are knowledgeable in scientific topics, but they also interact with their followers on digital platforms such as LinkedIn, Twitter, and YouTube, and educate them. It is expected that this new group of experts will become part of the omnichannel approach.
The current omnichannel approaches aim to deliver medical information to doctors in a seamless manner through the most suitable channel according to their preferences. The next step of omnichannel is expected to be personalizing the information provided to doctors for their patients. This personalization foresees the doctor receiving a suitable, accurate, and fast response, instead of a generic one, when they have a problem related to their patient through the communication channels.
The future of omnichannel interaction in the healthcare industry and pharmaceutical sector holds promise. With the advancement of technology and increasing adoption, traditional communication models will give way to personalized communication. The use of omnichannel interaction by the pharmaceutical industry for medical purposes brings some challenges in a highly regulated industry worldwide, but it is clear that doctors will be served better with an omnichannel approach and regulations are expected to align accordingly. Companies that succeed in integrating omnichannel strategies will be better able to adapt to doctor's needs and preferences, thus positioning themselves better.
References:
Sermo HCP Sentiment Study, Part 7, 2020, 2) Medical Affairs: The Journey to Omnichannel Starts with Mindset
https://viseven.com/services/omnichannel-marketing/
https://www.anthillagency.com/omnichannel-pharma-guide
https://www.veeva.com/ap/blog/accelerating-pharma-transition-to-omnichannel-and-content-excellence-in-australia-which-path-will-you-take/
https://www.fiercepharma.com/sponsored/how-pharma-companies-can-prototype-omnichannel-commercial-model
Ready for launch: Reshaping pharma's strategy in the next normal. McKinsey & Company. 2020
Navigator365TM EU5 Specialists Q3 2022 (n=40100)
EvaluatePharma/McKinsey analysis
Across Health 2022
Denson et al. Trans Am Clin Climatol Assoc. 2011; 122: 48–58